Domaine Rousset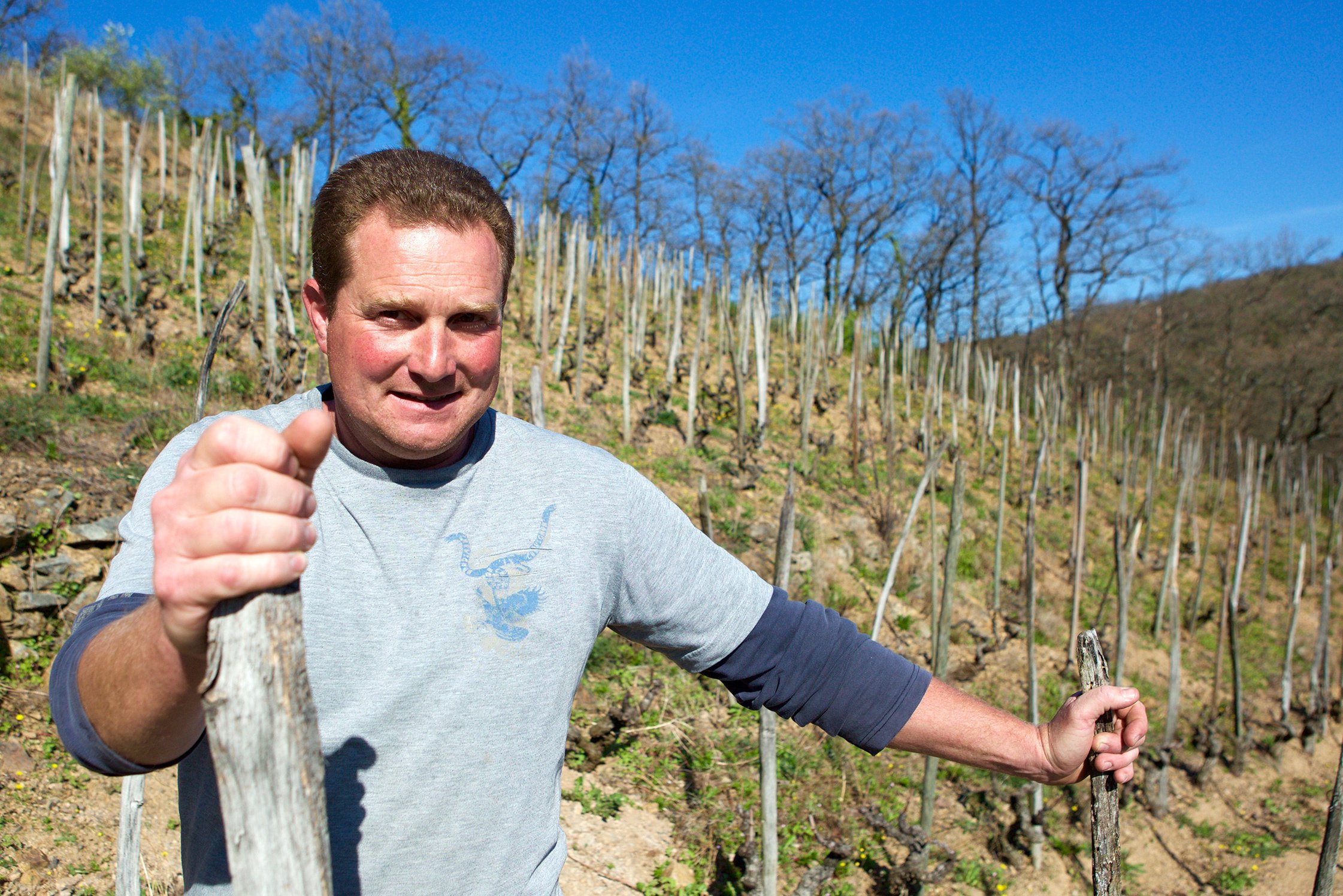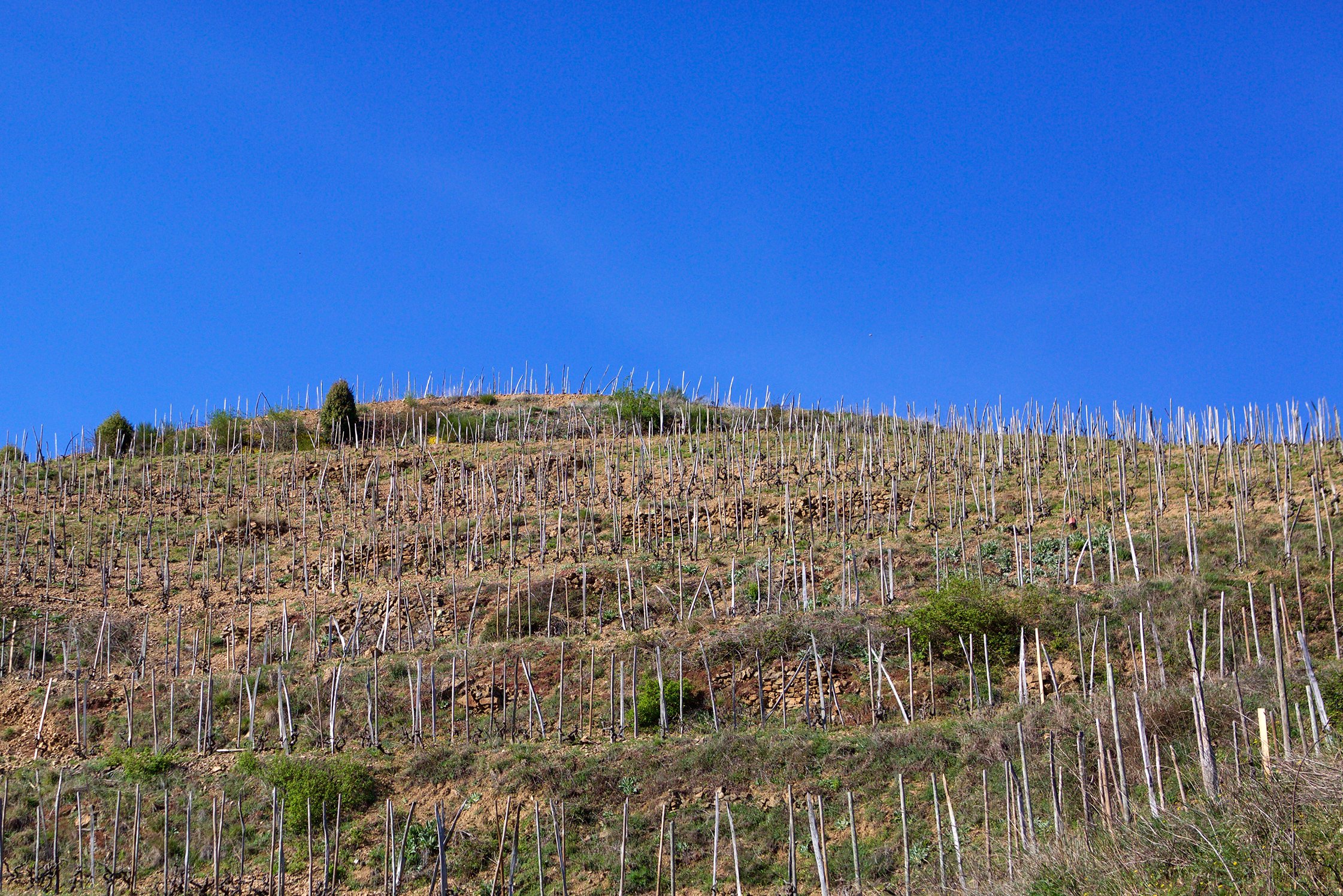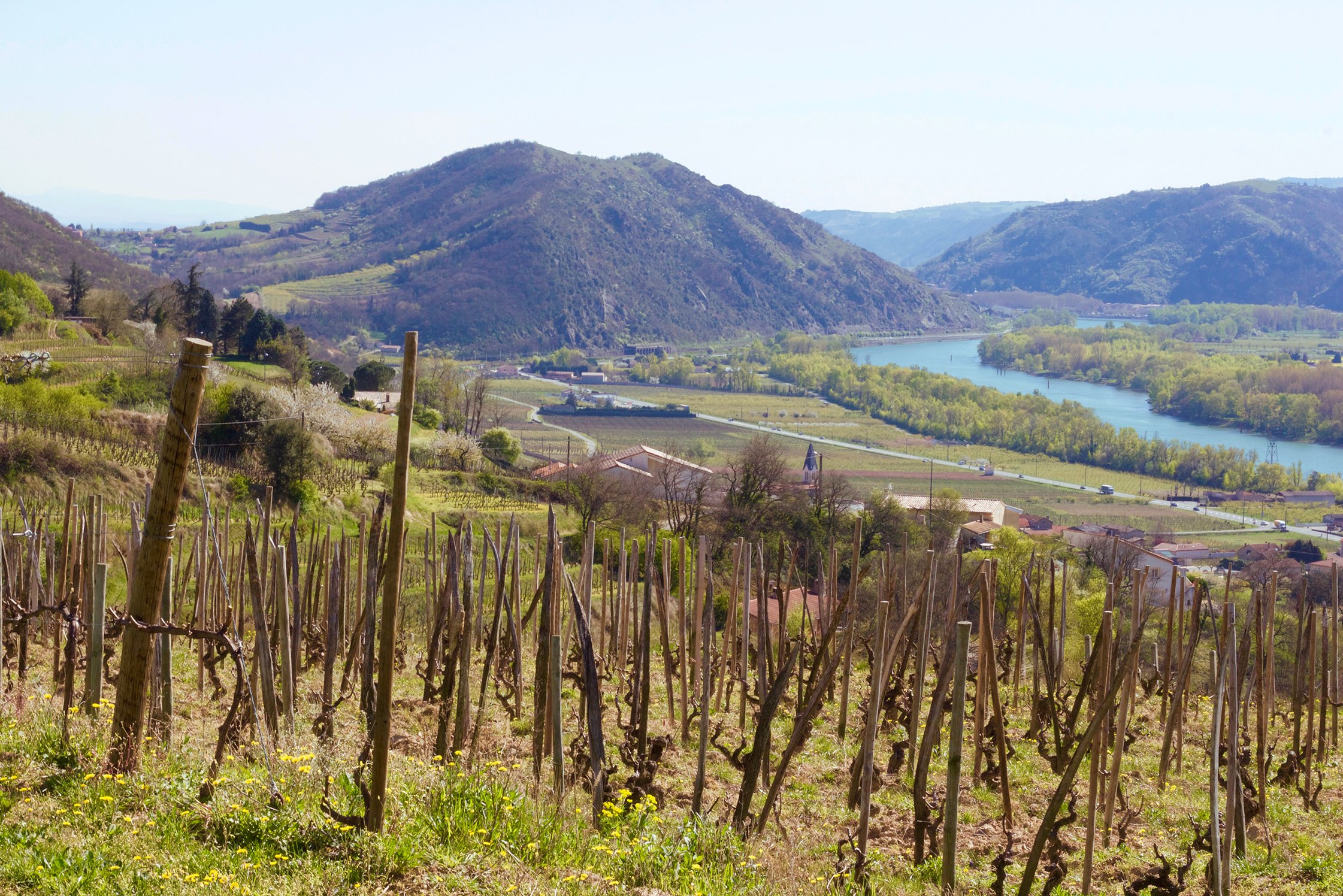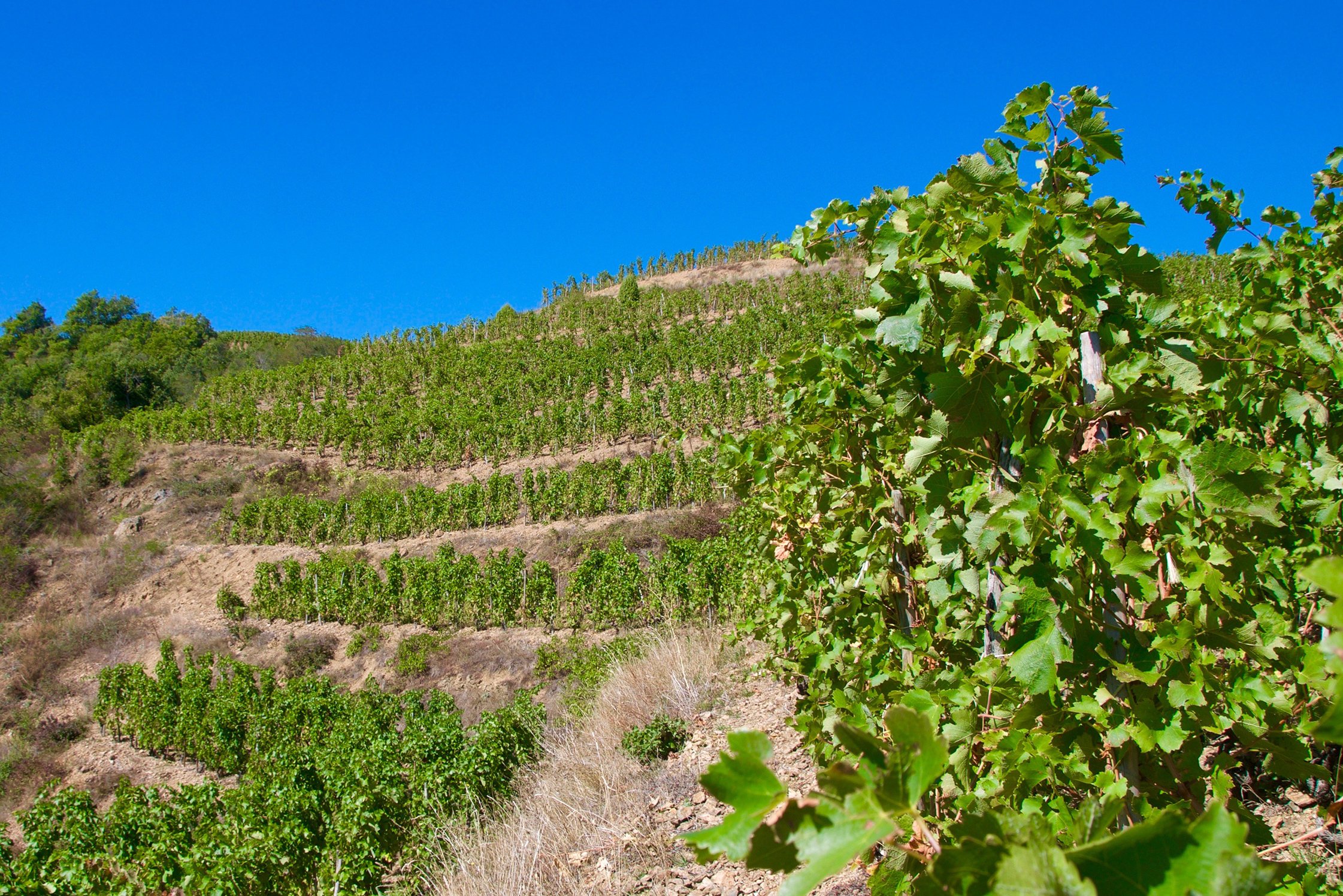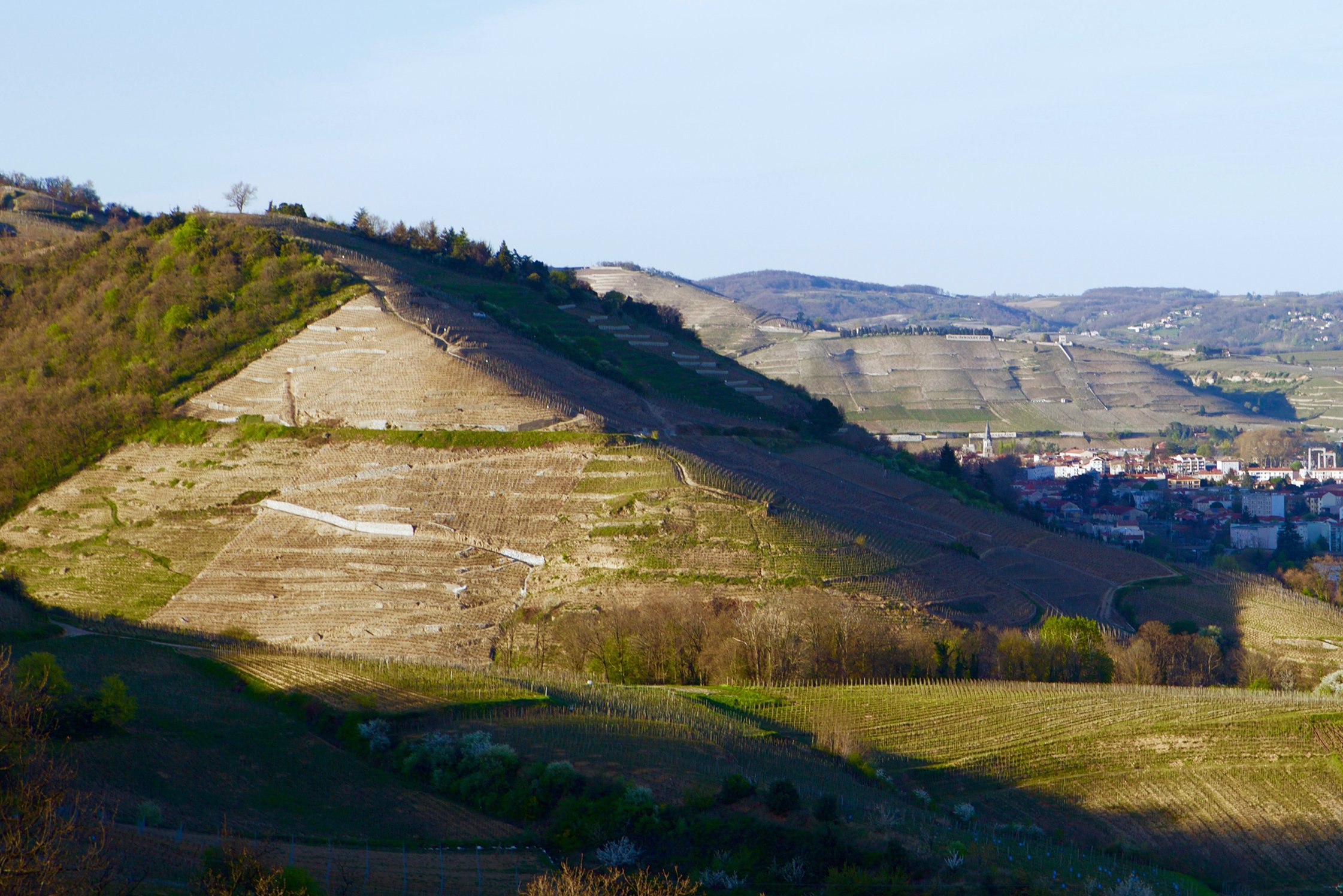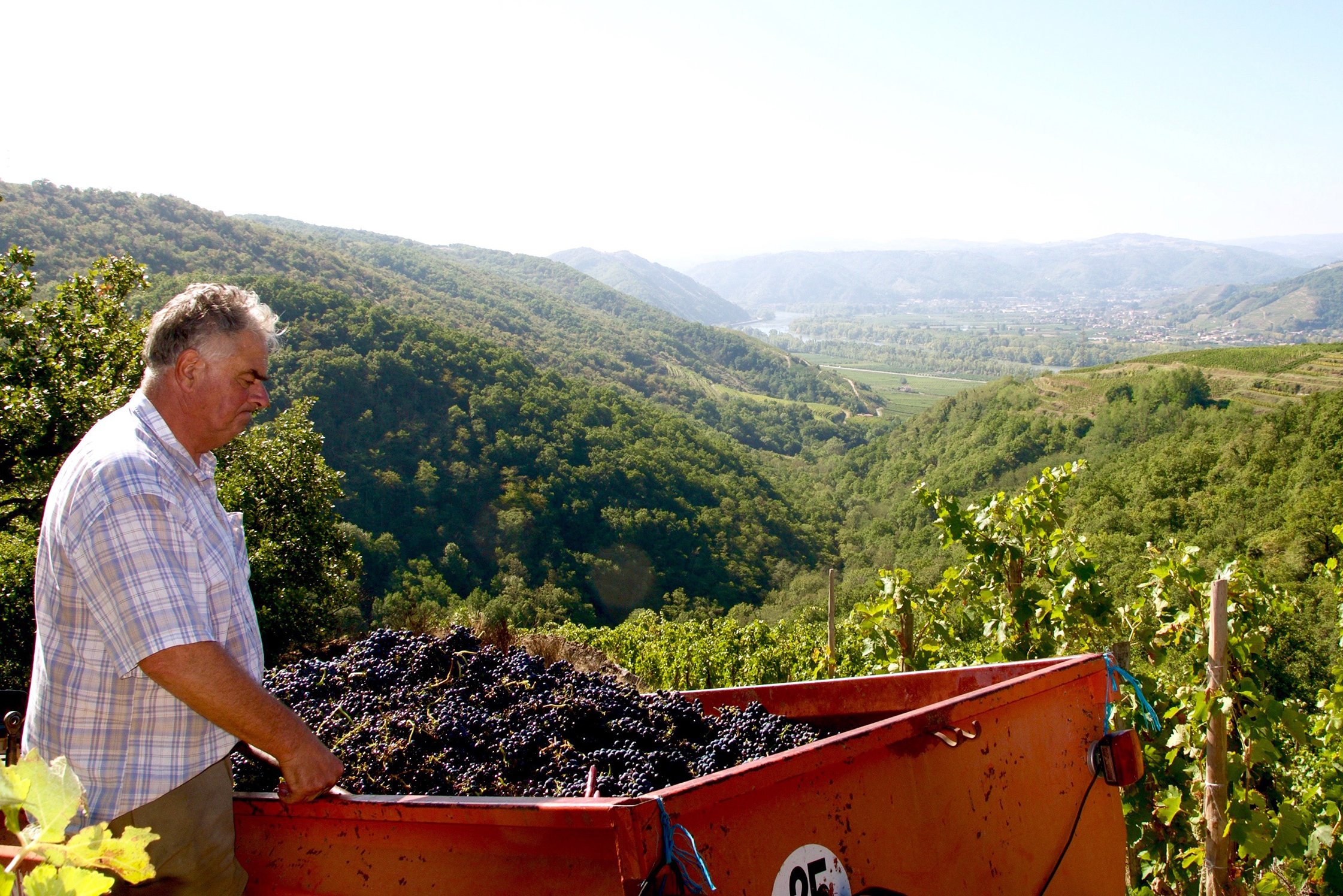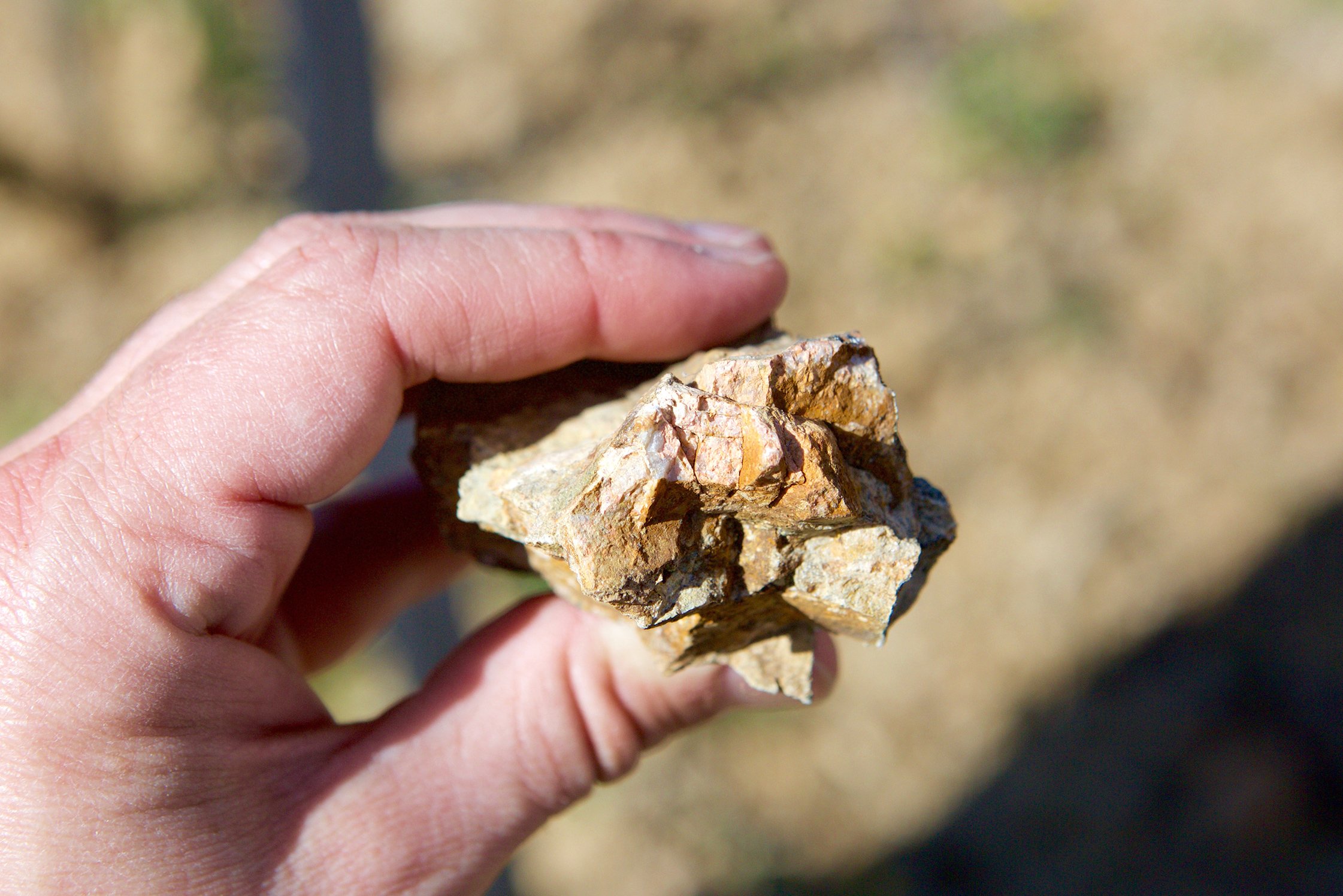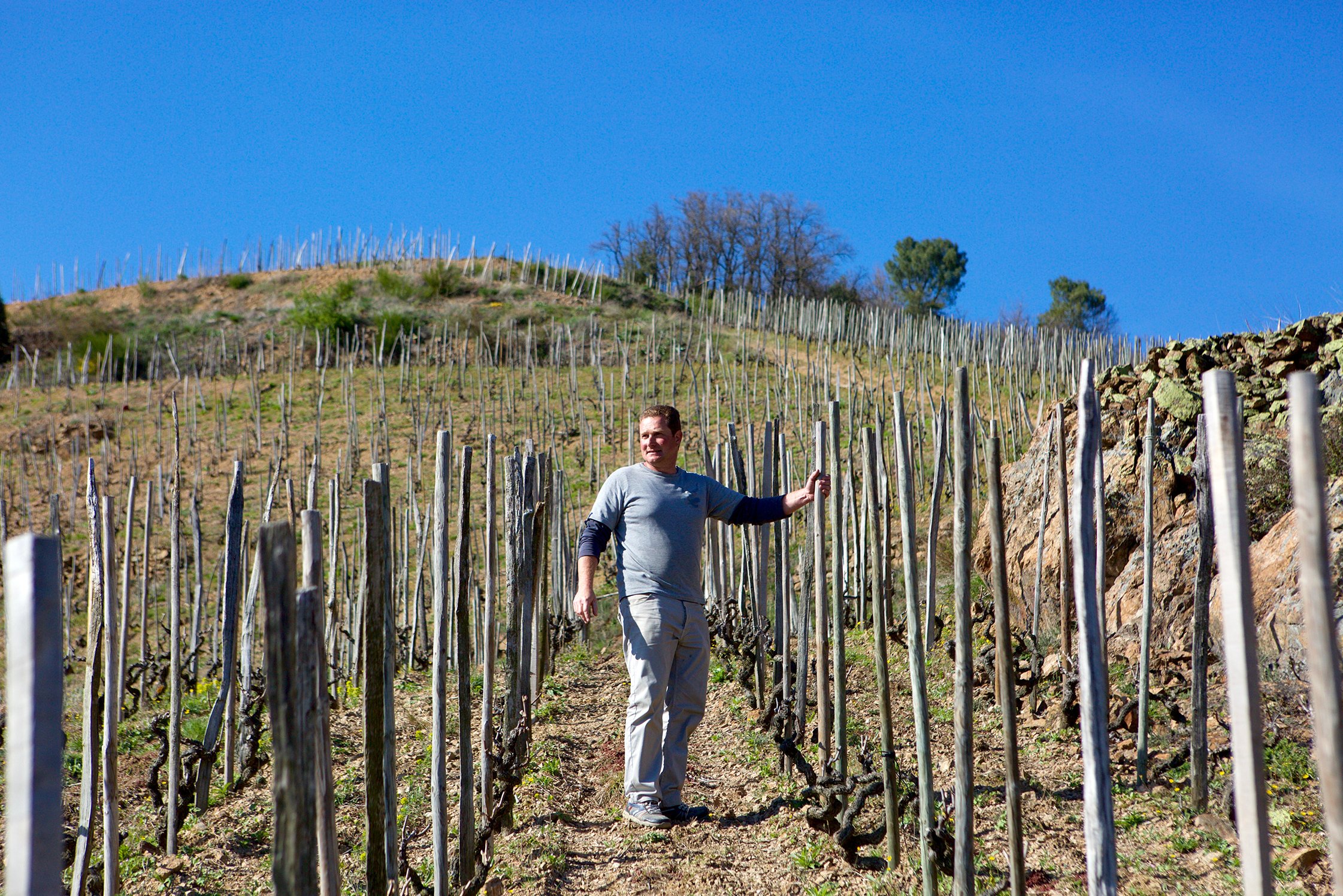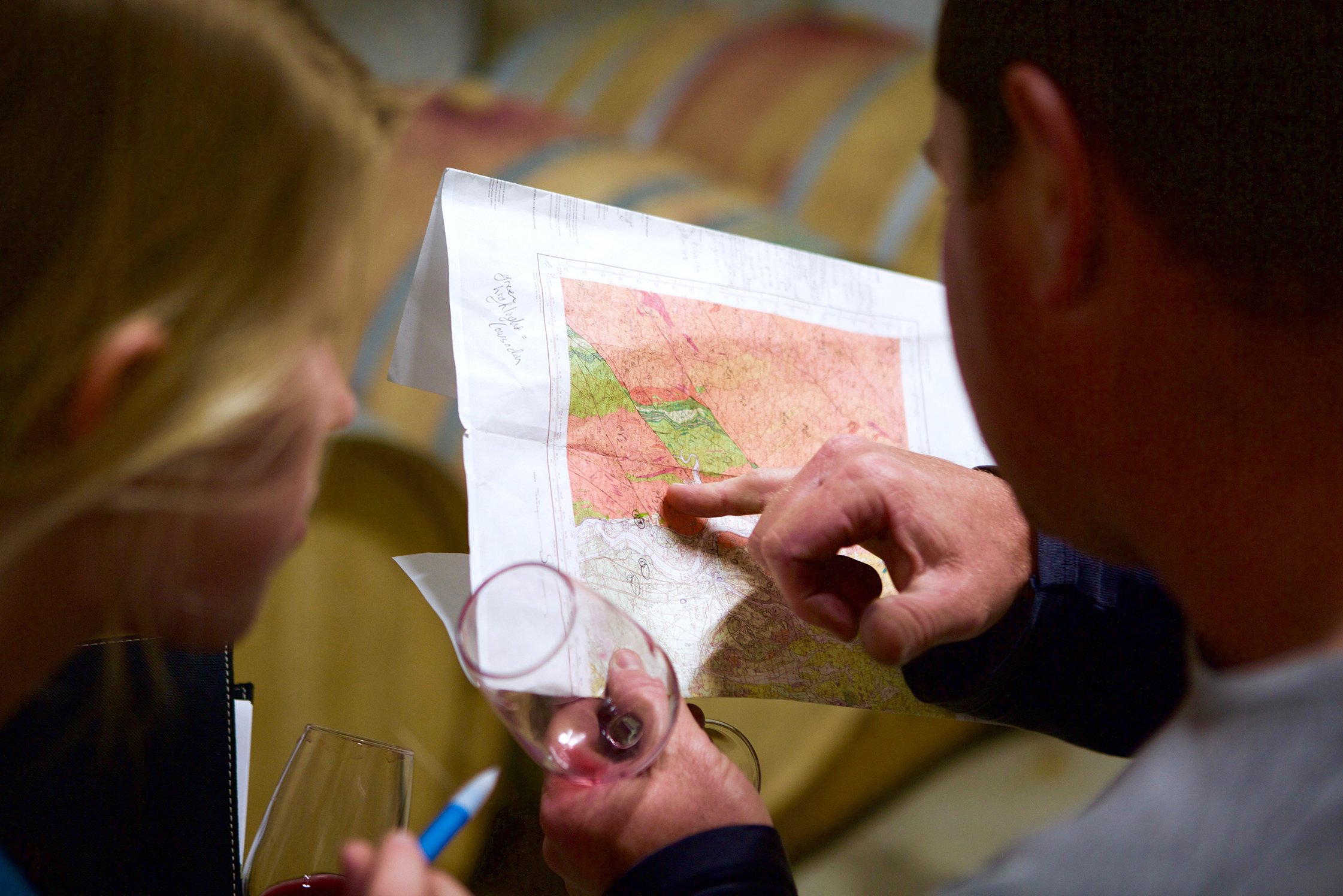 The Story
Stéphane Rousset's wines are built on solid craftsmanship and a clear concession of his voice to that of his terroir. His rough, intense look gives the impression that he might be a tough one to squeeze for information, but fifteen seconds in his smile grows and his soft, humble personality emerges. He and his lovely wife, Isabelle, are gentle and hospitable people. To work with those with such talent and graciousness as the Roussets is the motivation behind everything we do as wine importers.
Crozes-Hermitage is home to one of the most diverse terroirs under one red grape variety, Syrah. (There's white too, but to a much lesser degree.) Here you can find everything from intensely acidic rock, like granite in the shape of boulders, gravel, sand or clay, all the way to alkaline-rich limestone deposits, wind-blown loess and river alluvium. And all occur on various exposures, with some on flat land and some on treacherously steep hills. It's all an extension of Hermitage, the famous hill of the region.
The criticism of Crozes-Hermitage comes in the form of the vastness of its terroir and the often ordinary nature of its Syrah. Many are blends of different parcels and the vast majority of Crozes is often thought of a delicious and easy going Syrah without any particularly compelling attributes that define it further. They are indeed vins de terroirs, but many of the appellation's terroirs aren't compelling like Hermitage, Saint-Joseph, Cornas or Côtes-Rôtie. However, there are exceptions and one only need to know where to look for them.
To the north and behind Hermitage, on the same side of the Rhône River, is the setting for Stéphane Rousset's vineyards. These are the granite lands of Crozes-Hermitage. Aside from Rousset's ace, Les Picaudières (read more about this quiet legend and Rousset here), they have many parcels in the appellation's three historic communes before it was expanded, Gervans, Érôme and Crozes-Hermitage, the small village from which this massive AOC takes its name. Across the river, another gem in the range, is a terrific set of side-by-side, east-facing Saint-Joseph granite parcels named, Rivoires.
Stéphane and his father, Robert, tend to the vineyard work together. A stroll through their vineyards reveals an extremely high level of sustainable farming from this virtual two-man team. They respect the soil and nature, and minimize the use of treatments to copper and sulfur—both essential in all European vineyards whether they are in organic, biodynamic and/or a "natural" winegrowing culture.
In the cellar it's pretty straightforward. Located on an unassuming and unmarked road, a first glance inside instantly reveals Stéphane's attention to detail. His fastidiousness is obvious, even when he's thiefing wine to taste from barrels, as hardly a drop ever hits the floor. Like many of the cellars in the Northern Rhône Valley, their approach is similar to what one would see in a California wine cellar, with Syrah as part of their production.
The red wine vinifications are made with fully destemmed grapes and the use of 225-to-500-liter French oak barrels, with a minimum of new oak mixed in, and only when barrels in disrepair need replacement. Certain proportions of the basic red Crozes-Hermitage are aged in stainless steel, which seem to be parcels largely grown on granite bedrock with loess topsoil, and then blended in with some of the wines raised in oak barrels from parcels that are largely grown in granite bedrock with granite topsoil derived from the bedrock. The Crozes-Hermitage Rouge "Les Picaudieres" and the Saint-Joseph are raised exclusively in oak barrels. As a side note, Rousset has a fabulous collection of single parcel Crozes-Hermitage vineyards that I've encouraged him to bottle alone. Hopefully this will come to fruition someday.
His whites made from Marsanne are mostly aged in stainless steel tanks, with a small proportion of French oak barrels. The steel is employed to inhibit malolactic fermentation and preserve the elusive freshness whites from this region struggle to maintain. -TV
Lay of the Land
One of the most diverse appellations in France's Northern Rhône Valley, Crozes-Hermitage is also its biggest. As already mentioned in The Story (above), Rousset's vineyards are in its most northern communes: Érôme, Gervans, and Crozes-Hermitage (the village from which the appellation takes its name). The soil types and hill structures differ greatly from the rest of the appellation. Here they are on moderately steep to very steep granite terraces of the river's left bank, above the Rhône and tucked back behind the behemoth hill of Hermitage.
Rousset's collection of vineyards is where the Rhône River swings west before banking back toward the east, exposing granite rocks from the Massif Central and yielding wines of texture and perfume from what we more commonly associate with Cornas and St. Joseph. Les Picaudières, in the commune Gervans, is historically the most revered vineyard on this side of the river on granite terroirs, with exception of Hermitage and its many lieux-dits. With its brittle granite and schist-like shards, nearly void of topsoil thanks to gravity, it may be one of the most singular wines from the entire appellation and surely one of its most recognizable when tasted. We haven't seen or heard much about this vineyard since Raymond Roure sold to Jaboulet and Robert Rousset (Stephane's father), but its history and story are fascinating and worth further investigation.
Crozes-Hermitage is home to France's noble and rustic red, Syrah, and the whites, Marsanne and Roussanne. In the three original appellations the soil for Syrah is largely granitic, but with many small variations of igneous and metamorphic stones, as is stated in the case of Les Picaudières. His whites, composed of Marsanne, grow mostly on loess, a fine-grained crystalline soil blown in by the wind and resulting in deep topsoil deposits above granite bedrock under many of his vineyards by the river. Loess is a slightly yellowish white color, rich in minerals and calcium, ideally for white wine more than red. Across the river, in Tournon, one of the six original Saint-Joseph communes, Rousset's two parcels of St. Joseph are on pure granitic bedrock on a very steep hillside.
The geology of the region is interesting and worth bringing into the conversation as well, because it is largely the defining factor between the taste of certain areas of this appellation. We go back as far as the Massif Central's conception more than three-hundred million years ago, which is responsible for the granite and metamorphic outcrops found in the Northern Rhône. And then you must pick up the story with the Alpine orogeny.
The Alpine orogeny (mountain building event) began around forty million years ago and caused the development of the Saône Valley, a somewhat flat valley floor that sits between today's Alps and France's Massif Central. The result in Crozes-Hermitage and Hermitage were these opposing geological settings. On one end you have the ancient granite bedrock, and on the other, multi-layered alluvial deposits largely brought in by the Rhône and Isère Rivers; their torrent clash over the years is evident on the south and eastern zones of Crozes-Hermitage and Hermitage, and of course the Rhône is responsible for breaking away the western section of Hermitage and Crozes-Hermitage from the massif across the river.
Granite, one of the darlings rock types of the Northern Rhône Valley, is all too often misattributed as the mythical legendary soil of the hill of Hermitage, since it makes up only a small proportion of this famous hill's western flank—perhaps around 15%. The rest of the hill is a layer cake of different alluvial depositions, some rich in calcium carbonate soils (limestone marls, loess, and more) from millions of years ago, with the more recent introduction of alluvium from the rivers in the form of rounded cobbles, gravel, sand and silt.
With Syrah the only red grape permitted in the AOC, and Marsanne, the dominant white, an exploration of how different soil types and how they impose recognizable characteristics on a wine are easier to understand if you can get a golden ticket into the cellar of Jean-Louis Chave, or afford to drink some of the single lieu-dit wines from Michel Chapoutier's range, both priced out of reach for connoisseurs with even an above average wine budget.
Crozes-Hermitage represents a strongly terroir-diverse region where anyone with a modest budget for wine can explore the differences soil can impose. Certain producers represent specific areas principally on certain terroirs: like Alain Graillot and his wines from the Chassis plain, composed principally of river alluvium, similar to the lowest vineyards of Hermitage; or Domaine du Colombier's Crozes-Hermitage wines from Mercurol on a mix of alluvium with limestone deposits similar to the hill's eastern side; or Stephane Rousset's all grown on granite or metamorphic bedrock, similar to the western end of Hermitage and its famous granite parcel, Les Bessards. (Explore via Google Maps 3-D the different communes of Crozes-Hermitage. I've dropped you in where you can see Rousset's communes in the north, but if you move toward the south you will see the Chassis plain and the terraces east of Hermitage. There is a lot of vineyard land in this appellation and it is not the same as Rousset's.)
The only insurance of the separation of soils is to diligently do your homework to find out where each vigneron has their parcels; for almost all only carry the appellation name and little else to separate areas, save a few, like Stephane Rousset, or the promising young Jean-Baptiste Souillard. (Insider tip: find the name of the village where they live, which is usually written on the label, and locate it on a geological map. The likelihood is that their vines are close to home, thus revealing at least a starting point to explore further.)
Microclimates are an important influencer on Crozes-Hermitage wines too. Rousset's differ quite a lot compared to those on the fully exposed Chassis plain, or even up into Mercurol, home to some of appellations limestone terraces toward the east, not too far from the eastern flank of Hermitage. The climate in the area behind Hermitage tends toward warm days, but most of his vineyards are close to the river gorge and a plentiful supply of forests, so they air out and cool down quickly at nightfall. However, there are moments in the summer when the air is still and the sun's power intense enough to change an entire vintage within a couple of days. The winters are brisk but not extreme, except for the penetrating winds that can catch you off guard. The Rhône River also contributes to moderating the temperatures, but likely less than in the past, as hydroelectric dams now slow the water current. -TV
Size: 750ml
Availability:
10 in stock
Type of Wine: White
Grape(s): Marsanne
Style: Mineral, Medium Body, Elegant and Aromatic
Terroir: Bright and seductive, this medium weight Marsanne comes from an average of 70 year-old vines on the loess dominated hills of Erôme, just north around the bend from Hermitage on the Rhône River. It's all on granite bedrock, but often too deep beneath the sometimes meters high loess deposits that in some sections the vine roots may not at all contact with granite. The creamy, off-white sandy loess soils are thick, reflective and strongly structured, due to its crystalline makeup. While Stéphane crafts some of the most well-made and complex reds from Crozes-Hermitage, many local vignerons give him the nod as the top in whites.
Vinification: These hand-picked Marsanne grapes are whole cluster pressed upon arrival to the cellar, tank settled overnight and racked into stainless steel vats and a 40-hectoliter foudre (about 20% of the blend). The fermentation is natural and the malolactic fermentation is inhibited to maintain more freshness in the wine.
Aging: The wine is aged in the same 40-hectoliter foudre and stainless steel vats for about eight months before bottling.
(Subjective and based on young wines)
Elegant, Supple, Salty, Mineral, Mildly Glycerol, Honeysuckle, Spice, Full Body
Lightly Salty
—
Salty
—
Metal
—
Mineral
—
Wet Stone
—
Flint
—
Graphite
—
Reductive
—
Petrol
Drink Young
—
Short-Term Benefits
—
Long-Term Benefits
—
Unknown
The Vineyard
Soil:
Granite bedrock and deep loess topsoil. Loess is a wind-blown sandy soil with a crystalline structure that is often calcareous.
Sustainable
—
Organic Certified
—
Biodynamic Certified
—
Uncertified Naturalist
Forbidden
—
Never
—
Sometimes
Average of 70 years (2019); The oldest parcel was planted in 1923
(typical numbers; not vintage specific)
None Added
—
Very Low
—
Low
—
Medium
—
High
Notes compiled in 2019 by Ted Vance and Rachel Kerswell (The Source) and Stéphane Rousset